JN0-692 Exam Product Screenshots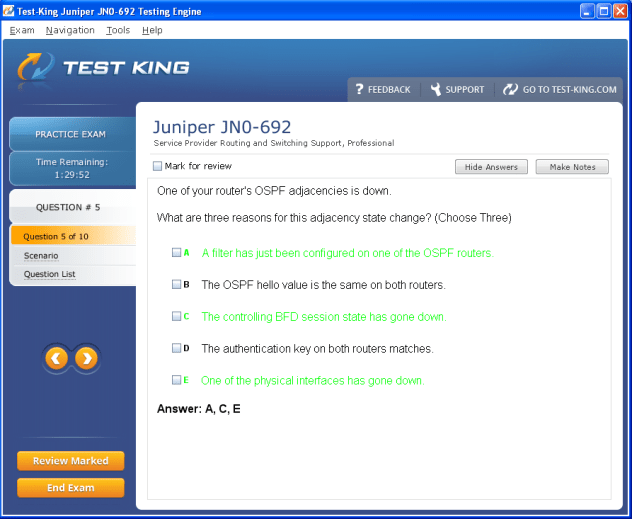 Test-King Juniper JN0-692 Testing-Engine Sample (1)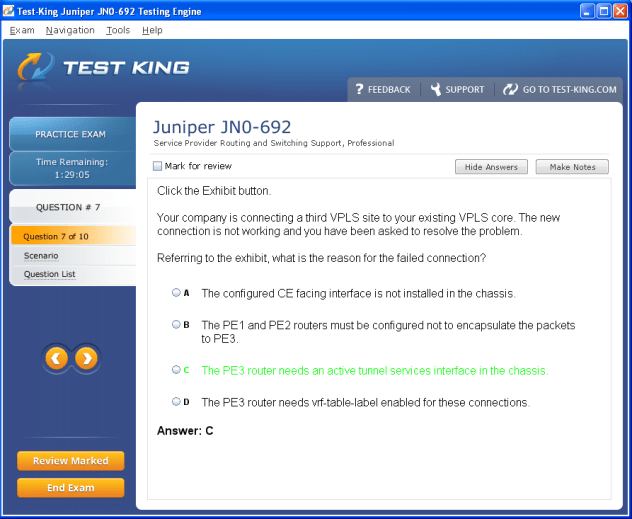 Test-King Juniper JN0-692 Testing-Engine Sample (2)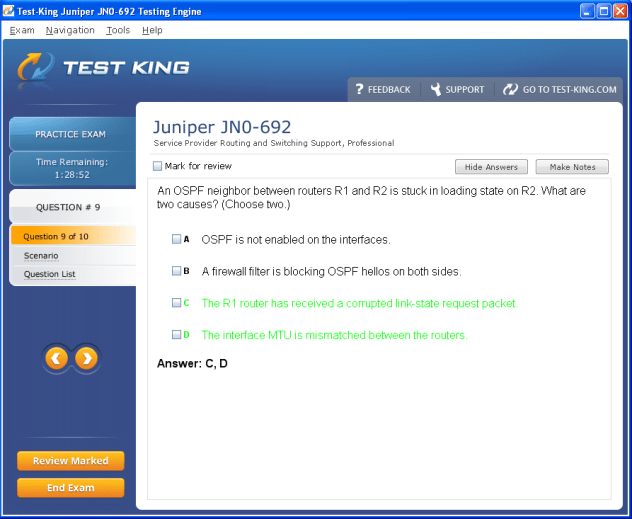 Test-King Juniper JN0-692 Testing-Engine Sample (3)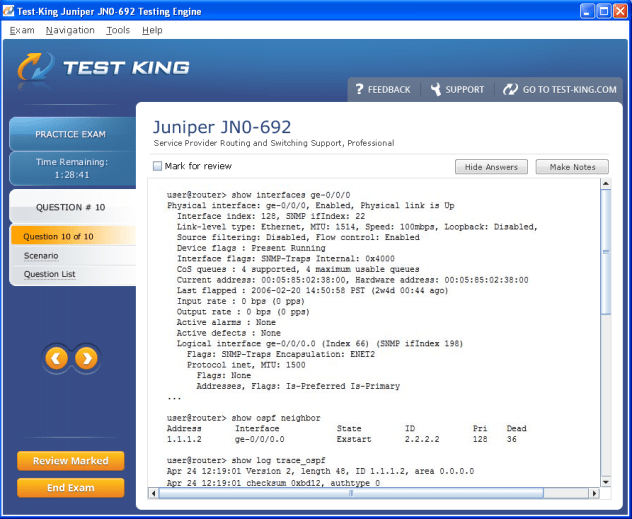 Test-King Juniper JN0-692 Testing-Engine Sample (4)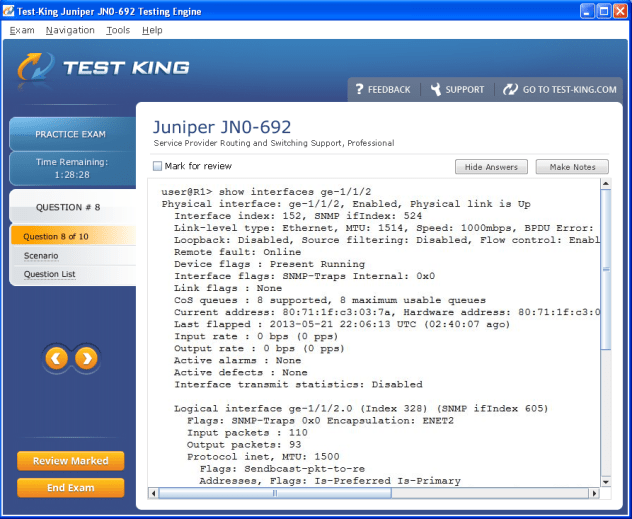 Test-King Juniper JN0-692 Testing-Engine Sample (5)
nop-1e =1
Recommended books and courses for JNCSP-SP
JNCSP-SP (Juniper Networks Certified Support Professional) has been designed for skilled networking professionals with beginner to intermediate knowledge of in Junos OS, this written exam verifies the candidate's basic understanding and troubleshooting skills on common issues related to Junos devices. Prerequisite certification is JNCIP-SP. The JNCSP-SP certification is valid for two years. Recertification is achieved by passing the JN0-690 exam.
The course curricula of JNCSP-SP certification exam include:
Troubleshooting Methodology
Monitoring & Troubleshooting of Chassis
Monitoring & Troubleshooting of Control Plane
Monitoring & Troubleshooting of Data Plane
Monitoring & Troubleshooting of Routing Protocol
Monitoring & Troubleshooting of High Availability (HA)
The exam-topics of JN0-690 exam has been designed following the course-contents that are suggested by an advanced-level training course titled 'Junos Troubleshooting in the NOC (JTNOC)' instructed by erudite mentors. It is essential to take those training courses to make a good score in the JNCIS-ENT certification.
Junos Troubleshooting in the NOC (JTNOC) is a three-day long advanced level course that has been designed to instruct on preliminary-level troubleshooting proficiencies for engineers involved with a network operations center (NOC) environment. The Key topics included in this course are: troubleshooting, Junos tools, JTAC, network, hardware, port mirroring, routing protocols, interface, data plane & control plane on the Junos operating system operated devices, staging & acceptance, Junos products to combat troubleshooting, Junos Traffic Vision (JFlow), RMON, etc. This course has been prepared on the basis of Junos OS Release 12.2R2.5. It costs $2,100.00 that is equivalent to 2100 Training Credits.
Course Contents of the training Junos Troubleshooting in the NOC (JTNOC) have been divided into three parts to instruct the candidates in three different days.
The first Day Schedule of JTNOC includes the following chapters:
Chapter 'Course Introduction' focuses on overall discussion on the course contents
Chapter 'Troubleshooting as a Process' focuses on the issues like, troubleshooting process, troubleshooting Process Lab, initials steps before starting troubleshooting, challenging Network Issues, etc.
Chapter 'Junos Product Families' focuses on the issues like, field-replaceable units, finding the hardware mechanism lab, Junos OS, Junos product families, control plane, data plane, etc.
Chapter 'Troubleshooting Toolkit' focuses on the issues like, successful examples, monitoring tools & establishing a baseline lab and troubleshooting tools.
The second Day Schedule of JTNOC includes the following chapters:
Chapter 'Hardware and Environmental Conditions' focuses on several issues including, monitoring hardware & environmental conditions Lab, hardware troubleshooting Outline, memory & storage, boot monitoring, hardware-related system logs, chassis & environmental monitoring, etc.
Chapter 'Control Plane' focuses on several issues including, control plane monitoring & troubleshooting lab, control plane review, address resolution protocol monitoring, system & user Processes, routing tables & protocols monitoring, monitoring bridging, etc.
Chapter 'Data Plane: Interfaces' focuses on several issues including, troubleshooting of general interface, monitoring & troubleshooting the Ethernet interfaces lab, interface Properties, Ethernet interface iroubleshooting, etc.
Chapter 'Data Plane: Other Components' focuses on issues like, load-balancing Behavior, isolation & troubleshooting of the PFE issues Lab, data plane Problem, data plane troubleshooting case study, data plane mechanism, firewall filters & policers, data plane forwarding, etc.
The third Day Schedule of JTNOC includes the following chapters:
Chapter 'Staging and Acceptance Testing' focuses on general system checks, interface testing, physical inspection & power-on, etc.
Chapter 'Troubleshooting Routing Protocols' focuses on troubleshooting BGP, troubleshooting routing protocols lab, troubleshooting OSPF, troubleshooting routing loops & route oscillation, etc.
Chapter 'High Availability' focuses on graceful restart, combined in-service software improvement, High Availability summary, nonstop cctive routing & bridging, graceful routing engine switchover, etc.
Chapter 'Network Monitoring' focuses on RMON, monitoring the network Lab, SNMP and flow monitoring.
Chapter 'JTAC Procedures' focuses on customer support tools, transferring files to JTAC, opening a support case, content of a PR, etc.
Studying the above mentioned exam-contents, a candidate can take preparation for the JN0-690. Candidates can also rely on the test-king study guides, as those exam solutions cover the exam-contents of JNCSP - SP certification more precisely.
Frequently Asked Questions
How can I get the products after purchase?
All products are available for download immediately from your Member's Area. Once you have made the payment, you will be transferred to Member's Area where you can login and download the products you have purchased to your computer.
How long can I use my product? Will it be valid forever?
Test-King products have a validity of 90 days from the date of purchase. This means that any updates to the products, including but not limited to new questions, or updates and changes by our editing team, will be automatically downloaded on to computer to make sure that you get latest exam prep materials during those 90 days.
Can I renew my product if when it's expired?
Yes, when the 90 days of your product validity are over, you have the option of renewing your expired products with a 30% discount. This can be done in your Member's Area.
Please note that you will not be able to use the product after it has expired if you don't renew it.
How often are the questions updated?
We always try to provide the latest pool of questions, Updates in the questions depend on the changes in actual pool of questions by different vendors. As soon as we know about the change in the exam question pool we try our best to update the products as fast as possible.
How many computers I can download Test-King software on?
You can download the Test-King products on the maximum number of 2 (two) computers or devices. If you need to use the software on more than two machines, you can purchase this option separately. Please email support@test-king.com if you need to use more than 5 (five) computers.
What is a PDF Version?
PDF Version is a pdf document of Questions & Answers product. The document file has standart .pdf format, which can be easily read by any pdf reader application like Adobe Acrobat Reader, Foxit Reader, OpenOffice, Google Docs and many others.
Can I purchase PDF Version without the Testing Engine?
PDF Version cannot be purchased separately. It is only available as an add-on to main Question & Answer Testing Engine product.
What operating systems are supported by your Testing Engine software?
Our testing engine is supported by Windows. Andriod and IOS software is currently under development.