1z0-460 Exam Product Screenshots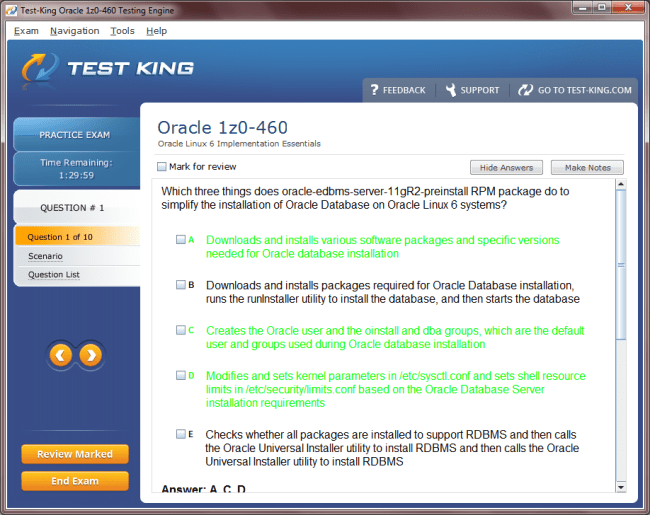 Test-King Oracle 1z0-460 Testing-Engine Sample (1)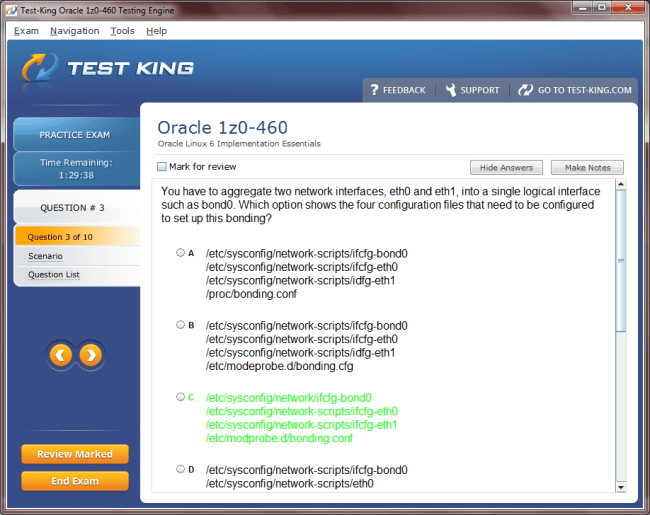 Test-King Oracle 1z0-460 Testing-Engine Sample (2)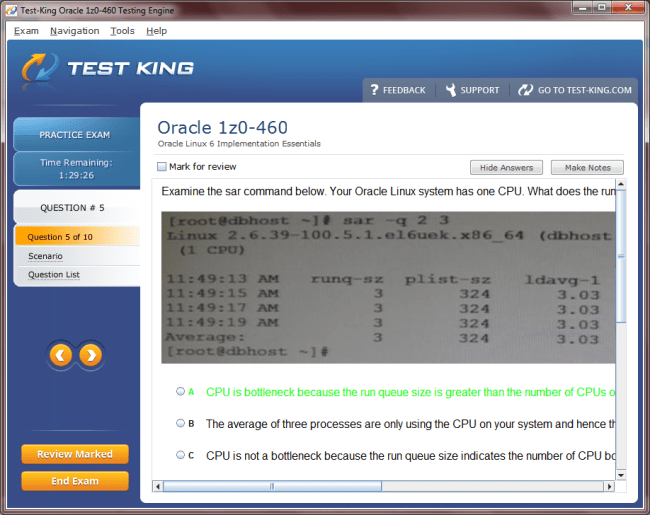 Test-King Oracle 1z0-460 Testing-Engine Sample (3)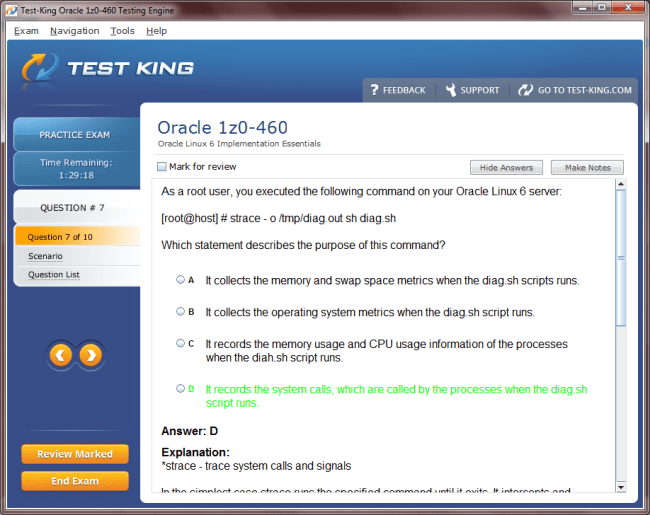 Test-King Oracle 1z0-460 Testing-Engine Sample (4)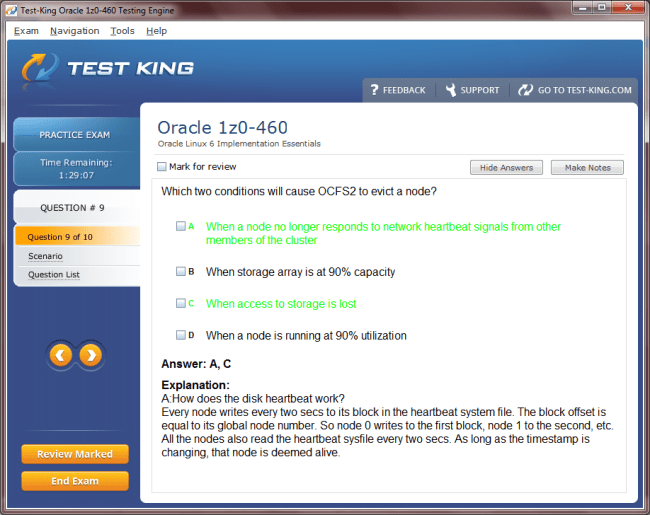 Test-King Oracle 1z0-460 Testing-Engine Sample (5)
nop-1e =1
Certification Overview
Oracle Linux 6 Implementation specialization is a certification that is designed to target professionals who have a strong knowledge and experience both providing and practicing Oracle Linux solutions. The edge this certification provides in the market place is proven expertise. This means that the certificate itself will be a testimony to the ability of this particular professional. Once the certification is completed it is recommended that the professional immerses himself/herself in the latest training and industrial application.
Who can do this certification?
All candidates are eligible for this certification but the targeted candidates are the professionals who are a part of the Oracle Partner Network. Upon completion of this certification they will be recognized as Oracle Partner Network Certified Specialists. A list of the targeted audience is as follows:
Functional Implementers.
Pre-Sales Consultants.
System Integrators.
Installation Engineers.
System Engineers.
Candidates interested in this certification must have sound knowledge of the Linux products and Oracle Linux packages. Disk partitioning methods and familiarization with disk partitioning utilities are necessary for this certification. The exam tests things as basic as the knowledge of the ways by which one can acquire Oracle Linux operating system. The Ksplice feature is one of the most important feature of the Linux operating system hence all candidates appearing for this certification must be familiar with this feature.Like all software programs the Oracle Linux is also designed to work in a network hence professional who are seeking this certification must be familiar with basic network configurations.The Linux boot sequence is an important aspect of testing in this certification. Candidates appearing for this specialization exam should be familiar with software utilities that help the program to attain automation and increase user's control over the computing system.SELinux modes, Booleans, /etc/sysconfig commands and related contexts are another area of concentration for the exam.
Benefits
Once the candidate has completed this certification he /she will be able to install Linux 6 on any computing device, set configurations for a Linux boot sequence. The candidate will also be able to use the Linux Software Packageand Ksplice patching for better system resource management. New groups and Users creation, file system and network management are among the new skills the candidate adds to his/her skill set.Troubleshooting and monitoring computing systems areamong the most important skills an Information Technology professional can wish for and this certification handles this aspect very beautifully imparting the necessary skills to monitor and troubleshoot computing systems running on Linux 6.
Associated Exam
In order to earn this certification the candidate is to complete the exam coded 1Z0-460 with a minimum of 62% score.The exam comprises of 71 questions. The duration of this exam is 2 hours or 120 minutes. The passing score for the exam is 62%. The questions follow a multiple choice scheme. Each question has four options the candidate is required to select the correct option.
Prerequisites
No Mandatory courses or exam prerequisites are there to apply for this exam. All interested can proceed directly to the certification if they think they are equipped with the right knowledge to tackle the exam.
Exam overview
A list of the topics that are included in the exam syllabus is as follows:
Introducing Oracle Linux
This topic handles the relation between Oracle Linux and Red Hat Enterprise Linux. Another area covered by topic is the difference between the kernels used by Oracle and Red Hat enterprises.
Installing Oracle Linux 6 on to a computing device
This topic includes the procurement of the Oracle Linux operating system and installation of the software onto a compatible computing machine.
Boot Sequence for Linux
This topic handles the boot sequence for an Oracle Linux based operating system.It also includes the configuration of the kernel and run scripts. It handles basic command directories that help the user to manipulate the running of the system.
Configuration and Process management for an Oracle Linux based system.
This topic covers the familiarization with system utilities like the RPM and YUM. It also covers the configuration of these utilities that varies from system to system.
How to manage the Oracle Linux operating system.
This topic handles the manipulation of the automation and crontab utilities. The rsyslog action and templates are also covered in this topic.
Ksplice feature.
This topic covers the understanding of the Ksplice feature and its application.
How to automate various system processes.
This topic includes the familiarization with the utilities that help to automate runtime processes.
New and existing Users and Groups managing.
This topic handles the User and Group managing utilities.
Controlling Filing and Storage systems in an Oracle Linux based system.
This topic covers the disk space and file system management. Disk partitioning utilities and file system managing utilities are an essential aim of this topic.
Basic and Network monitoring and troubleshooting.
This topic handles basic level network monitoring, security and troubleshooting.
Validity of the Certification
Just as is the case in other Adobe certification, full validity until upgradation or any update in this category is released.
Expert Review
An internet source says and I quote
"Consider taking this exam if you work for an OPN company or want to test the waters surrounding Oracle's Linux distribution."
Isabella Laurentice, Kilroy Realty Corp
Venice, Italy
Frequently Asked Questions
How can I get the products after purchase?
All products are available for download immediately from your Member's Area. Once you have made the payment, you will be transferred to Member's Area where you can login and download the products you have purchased to your computer.
How long can I use my product? Will it be valid forever?
Test-King products have a validity of 90 days from the date of purchase. This means that any updates to the products, including but not limited to new questions, or updates and changes by our editing team, will be automatically downloaded on to computer to make sure that you get latest exam prep materials during those 90 days.
Can I renew my product if when it's expired?
Yes, when the 90 days of your product validity are over, you have the option of renewing your expired products with a 30% discount. This can be done in your Member's Area.
Please note that you will not be able to use the product after it has expired if you don't renew it.
How often are the questions updated?
We always try to provide the latest pool of questions, Updates in the questions depend on the changes in actual pool of questions by different vendors. As soon as we know about the change in the exam question pool we try our best to update the products as fast as possible.
How many computers I can download Test-King software on?
You can download the Test-King products on the maximum number of 2 (two) computers or devices. If you need to use the software on more than two machines, you can purchase this option separately. Please email support@test-king.com if you need to use more than 5 (five) computers.
What is a PDF Version?
PDF Version is a pdf document of Questions & Answers product. The document file has standart .pdf format, which can be easily read by any pdf reader application like Adobe Acrobat Reader, Foxit Reader, OpenOffice, Google Docs and many others.
Can I purchase PDF Version without the Testing Engine?
PDF Version cannot be purchased separately. It is only available as an add-on to main Question & Answer Testing Engine product.
What operating systems are supported by your Testing Engine software?
Our testing engine is supported by Windows. Andriod and IOS software is currently under development.