Pass Unlimited IT Certification Exams With Test-King Mega Packs
Get Access to 1300+ Real Exam Questions With An Average 99.6% FIRST TIME PASS RATE
Unlimited Access Mega Packs
Designed for candidates looking to pass several certification exams at once and enjoy BIG Savings on their training expenses.
Real Exam Questions: Taken from the pool of real exam to ensure that you see exactly the same questions in your actual exam.
100% Accurate Answers: All products and answers are verified by industry leading Certified Trainers.
Free Updates: We constantly monitor the pool of real exam questions and update our exams within 1 week of actual exam questions change.
Instructor Led Feedback System: Submit your feed to our experts for ask any questions which you might have about our products.
Testing Engine Software: To give you real simulation environment that you will experience in testing centre.
Proven Results: 46705+ Satisfied Customers with industry highest 99.6% First Time Pass Rate.
No Hassle: 100% Money Back Guarantee.
Corporate Sales are available!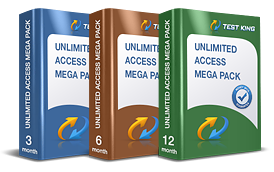 Bronze Package

3 Months Unlimited Access to 1300+ Questions & Answers

$499.00

Silver Package

6 Months Unlimited Access to 1300+ Questions & Answers

$999.00

Gold Package

12 Months Unlimited Access to 1300+ Questions & Answers

$1,799.00
* Promotion Codes are not applicable to Mega Packs