Audio Guides
Test-King Audio Guides available in MP3 format can be played on literally any media player. Learning can be easy infact painless with Test-King Audio Guides files. Prepare while commuting to work!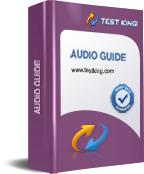 Available in MP3 format: use on iPod, thumbdrive or other Media Players
Low and High Bandwidth options
Study guide Format for easy understanding and concepts
Perfectly complement Q&A, Study Guide or Training Course
Usually files are 25 and 90 minutes long
Take them with you anywhere
Test-King Team does not recommend using Audio Guides alone for Real Exam Preparation, they are the perfect companion to our Questions & Answers and Study Guides.