Enjoy The Advantages Of Being A Channel Partner
Earn Money By Reselling Test-King Products To Your Students, Colleagues & Friends!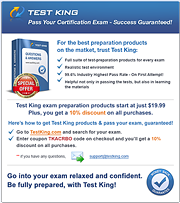 Introducing our new Channel Partner Program, an initiative to share our services and as well as help you earn from our channel partner program. A win -win offer for training institutes, trainers, corporations to earn as much as 30% on our sales, without a single penny of investment on their part. No joining fees, No sales liability, just pure partnership program.
Quality Exam Tools verified by best in the IT exam Field
You will earn 30% share for any sale made
10% discount for anyone who uses your specific "PROMOCODE"
Regular feedback & correspondence with our Support team
No Investment, Hassle free earning
How it works
The Channel Partner Program for organizations works in the following manner:
A) SIGN UP

Fill out the application form mentioned at the bottom of this page along with your marketing plans and our team will get in touch after your account has been setup.

B) ACTIVATE YOUR BROCHURE AND PROMO CODE

After registration to our Channel Partner Program, we provide our brochure to your with an unique "PROMO CODE". Each promo code is unique for each channel partner. Upon receiving the brochure with Promocode, you need to do the following steps:

STEP 1: Promotion & Distribution of Brochure

Print out the brochure which has been given to you and start distributing and promoting among students and potential candidates.

STEP 2: Sale, Discount & Commission

Anyone who uses this Promocode will get a discount of 10% on their purchased product and the sale will be automatically get recorded in your account which will earn referrals fees of 30% on any purchased product by their student or customers.

STEP 3: Payments

At end of each month, the you will recieve its payment of total sum which accumulated against their assigned Promo Code, through Bankwire, paypal or Western Union. Eligibility: First payout will be made only after 10 sales have been made.