How Bandwidth is achieved from RF Signals
Exam: Cisco 640-721 - Implementing Cisco Unified Wireless Networking Essentials (IUWNE)
The article discusses in detail how bandwidth can be achieved from RF signals.
The ETSI is the regulatory body governed by the European government and FCC is governed by United States. All countries have their own regulatory bodies.
The IEEE has developed 802.11 standards that define half duplex operations in which a common frequency is used for both way operations on a Wireless LAN. If RF signals are to be achieved from bandwidth, emission method is to be used to send data as electrical signals. This type of emission method is known as Spread Spectrum. It was used in commercial market in 1986 when FCC allowed. A modulation technique is required if the data is to be placed in the RF signals. FCC not only defines the frequencies for unlicensed use but also sets the specifications pertaining to power levels at which WLAN devices can function, the technologies to be used for transmission and the location of the WLAN devices.
Unlicensed Frequency Bands Used in WLANs
As the amount of information placed increases so does the frequency, spectrum and the bandwidth. For purposes of this article the term bandwidth refers to the width of the RF channel and not data rates. There are two types of Modulations:
Frequency Modulation (FM)
Amplitude Modulation (AM)
As the amount of information on a signal will increase, so will the frequency spectrum or the bandwidth. Bandwidth can be defined in two ways. It can be defined as data rates or width of an RF channel. We consider it as width of an RF channel. We use the standard unit as Hertz (Hz) for measuring bandwidth. One hertz is equivalent to one cycle per second. Fm radio is considered as a high quality as compared to CB radio because FM radio uses 175 kHz of bandwidth as compared to CB which uses only 3 kHz. Television signal uses 4500 kHz of bandwidth.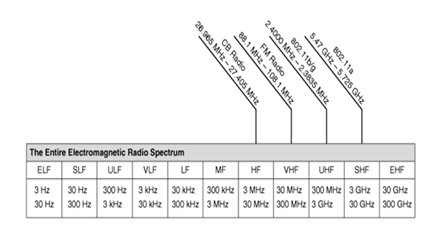 The Entire Electromagnetic Spectrum
| | | | |
| --- | --- | --- | --- |
| Europe | USA | Japan | Frequency |
| 2.4 GHz | 900 MHz | | |
| | 2.4 GHz ISM | | 2.0-2.4835 GHz |
| | | 2.4 GHz ISM | 2.0-2.495 GHz |
| CEPT A | UNII-1 | 5.15-5.25 GHz | 5.15-5.25 GHz |
| CEPT A | UNII-2 | | 5.15-5.35 GHz |
| CEPT B | UNII-2 Extended | | 5.47-5.7253 GHz |
| | ISM | | 5.725-5.850 GHz |
| | | 5.0 GHz | 5.038-5.091 GHz |
| | | 4.9 GHz | 4.9-5.0 GHz |
Usable Frequency Bands in Europe, the United States, and Japan
We can clearly see that in Europe, the 2.4-GHz range and the 5.0-GHz range are used. The 5.0-GHz frequency ranges that are used in Europe are called the Conference of European Post and Telecommunication (CEPT) A, CEPT B, and CEPT C bands. In the United States, the 900-MHz, 2.4-GHz ISM, and 5.0-GHz unlicensed national information infrastructure (UNII) bands are used. Japan has its own ranges in the 2.4- and 5.0-GHz range.