Configuring Public Folder Limits
Exam: Microsoft 70-662 - TS: Microsoft Exchange Server 2010, Configuring
Public Folders are designed for easy shared access and to facilitate collection and organization of information that may pertain to an organization or the entire workgroup. The Exchange stores the public folders in public folder databases. These can be created only if a public folder database exists. There are two kinds of public folder trees as described below -
Default Public Folders (IPM_Subtree): Folders that exist in this tree are more commonly accessed using applications like Outlook.
System Public Folders (Non_IPM_Subtree): Folders that are placed under these folders are accessed by the users indirectly.
Limits like the maximum size and age can be configured on items that are posted to public folders using Public folder limits.
The maximum size of the item, retention of deleted items, age limit of items can be configured on the Limit's tab.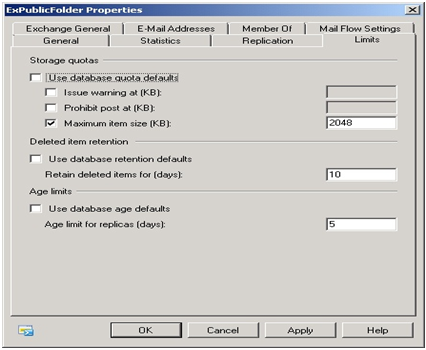 Public Folder Limits

The message size limits can be configured by using Set-PublicFolder cmdlet alongwith the parameter MaxItemSize. Through the EMC, the upper limit of receive size for a mail enabled public folder can be configured. For doing this the Receiving Message Size setting requires to be edited. The setting can be easily located in the Mail Flow tab. The setting allows controlling the messages that are placed in the folder using email but not to postings done by adopting any other method. The Set-MailPublicFolder cmdlet can be used for configuring the upper limit of the receive size for a mail enabled public folder. This has to be used along with MaxRecieveSize parameter in the Exchange Message Service(EMS).
Set-PublicFolder cmdlet along with the parameter AgeLimit can be used for configuring age limits. This has to be used alongwith the option UseDatabaseAgeDefaults $false.