Create Mailboxes
Exam: Microsoft 70-662 - TS: Microsoft Exchange Server 2010, Configuring
Mailboxes are the most commonly used type of recipient that is brought into use by information workers. Every mailbox is associated to an Active Directory user account and can be used by the user for sending, receiving and storing of messages, tasks, appointments and documents. Mailboxes can also be for various resources like equipment and meeting rooms.
Mailboxes can be created in 2 ways - by using the New Mailbox Wizard from EMC or by using New-Mailbox cmdlet from the Exchange Management Shell (EMS). Mailbox can be created along with a new user account or for an existing user.
Creating a New Mailbox using EMC
Before the process can be started it is imperative that one be assigned the permissions to carry on with the process. The steps to be followed are:
Enter the Exchange Management Shell and then goto the Recipients node and further to the Mailbox node
Choose the New Mailbox item from the Actions pane, select New Mailbox item and this will open up the New Mailbox Wizard. Once you click on Next, the User Mailbox option opens up.
You will find the option to create a new user account and to assign a mailbox to the same. It also gives the option to work the other way round, namely to create a mailbox and then to assign an existing user to the same.


If the latter option is chosen, the system would ask whether unconnected user accounts have to be found. More than one Active Directory users can be selected with the help of this dialog box provided they are not already connected to an Exchange mailbox.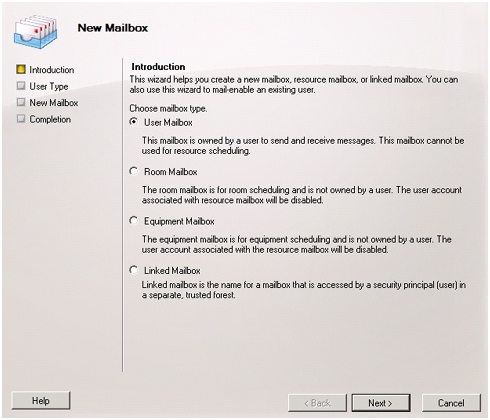 New Mailbox Dialog Box
If you are creating a new Exchange mailbox for accounts of an existing Active Directory, the further page asks for automatic selection of a mailbox database for hosting a mailbox, a mailbox policy and Active Sync Mailbox policy. In case the options that have been selected automatically are not appropriate, they can be altered. The user mailbox must be placed in a mailbox database that is hosted on a mailbox server available in the site that the users brings into use for accessing Exchange.
Once you have accepted the default mailbox database and have outlined its policies, the next page of New Mailbox Wizard has option of creation of a mailbox.
If a new user account is being created during the creation of the mailbox, the wizard issues a prompt for information that is similar to what is required while creating a user account using Active Directory Users and Computers console. When a user logs in using a newly created account the system prompts the user to change the password.