Mail Contacts
Exam: Microsoft 70-662 - TS: Microsoft Exchange Server 2010, Configuring
Mail contacts are Active Directory objects that are mail enabled. These contain information about the people or the organization existing outside the Exchange organization. Every mail contact possesses an external e-mail address.
Mail contacts allow external user's email address to be available in the Exchange address books without allowing the user any logon rights.
Creating a New Mail Contact using EMC
For creating a mail contact using the EMC the following steps need to be followed:
Click on Recipient Configuration in the console tree.
Move to the action pane and click on New Mail Contact.
Move to the Introduction page and under the heading Create a mail contact for, click on the appropriate option:



New Contact: This is a default setting. Clicking on this option allows creation of new mail enabled contact. This also allows providing the required information for the contact in the Contact Information page of EMC.
Existing Contact: Selecting this option allows mail enabling an already existing contact in the Active Directory. Click on Browse, this allows opening the Select Contact dialog box. A list of all the contacts in the forest that are not mail enabled will appear in the dialog box.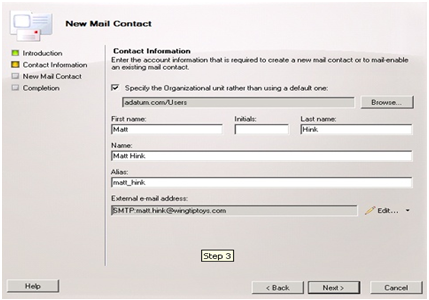 Creating a New Mail Contact
In case you select option (a) in the above step, specify the following parameters on the Contact Information page - the Organizational Unit (OU), First Name, Initials, Last Name, Name, Alias, External e-mail address.
The configuration settings can be reviewed on the New Mail Contact page. To incorporate any changes one is required to click on Back. If all parameters are as desired proceed to click on New.
In case the wizard needs to be closed without creating a new contact, click on Cancel.
On the Completion page, before clicking on Finish to close the wizard review the following:



If the status is shown as Completed it indicates that the wizard has been successfully completed.
A status of Failed represents that the task was not successfully completed. In this case review the summary, click on Back and make the necessary changes.



Click on Finish to close the wizard.
Creating a New Mail Contact from the Exchange Management Shell
A mail contact can be created from the Exchange Management Shell (EMS) by using New-MailContactcmdlet.