cert-course
ASVAB Bundle
Test: ASVAB
Test Full Name: Armed Services Vocational Aptitude Battery
Test Provider: Test Prep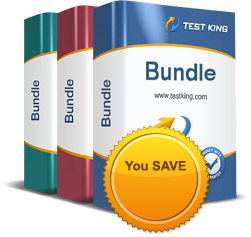 $69.93
Download Demo
Download Demo
Download Free ASVAB Testing Engine Demo
Experience Test-King ASVAB practice test Q&A testing engine for yourself.
Simply submit your e-mail address below to get started with our interactive software demo of your ASVAB test.
Customizable, interactive testing engine
Simulates real exam environment
Instant download
Please provide a correct email address to download demo!
* Our demo shows only a few questions from Test Prep exam for evaluating purposes
Pass ASVAB Exam Fast - 100% Money Back Guarantee!
Prepare With ASVAB Test Prep Course For Passing Quickly & Confidently
ASVAB Section 1: Word Knowledge Test

ASVAB Section One : Word Knowledge

1 Product

Includes 210 Questions & Answers.

ASVAB Word Knowledge Test from Test-King contains questions and answers from the real Word Knowledge exam section. It tests the language and verbal skills that candidates willing to enlist in the US Armed Forces should possess. The exam targets the candidates' ability to select the correct meaning of a word presented in context and to identify the best synonyms.

ASVAB Section 2: Arithmetic Reasoning Test

ASVAB Section two : Arithmetic Reasoning

1 Product

Includes 179 Questions & Answers.

This section of ASVAB preparation set from Test-King helps candidates with their Arithmetic Reasoning Test by providing ASVAB questions and answers that appear on the Arithmetic Reasoning Test. The questions include a variety of verbal math problems covering the areas that US military candidates are required to be familiar with.

ASVAB Section 3: Mechanical Comprehension Test

ASVAB Section Three : Mechanical Comprehension

1 Product

Includes 124 Questions & Answers.

ASVAB Mechanical Comprehension Test from Test-King includes questions and answers that cover all mechanical principles tested on the ASVAB exam. Candidates willing to enlist in the US Armed Forces are tested extensively on their knowledge and understanding of the mechanics, and these are the real exam questions they are given.

ASVAB Section 4: Automotive and Shop Information Test

ASVAB Section Four : Automotive & Shop Information

1 Product

Includes 125 Questions & Answers.

ASVAB Automotive and Shop Information Test checks the candidates' knowledge of the principles of automobiles and auto construction, recognition of the common tools, and basic automotive problem solving. Test-King makes this section easier by providing candidates with questions and answers used on the real ASVAB exam.

ASVAB Section 5: Electronic Information Test

ASVAB Section Five : Electronic Information

1 Product

Includes 100 Questions & Answers.

ASVAB Electronic Information Test from Test-King includes questions and answers from the ASVAB Electronic test section. In this section, the candidates are tested on their understanding of electricity, its basic principles, electric circuits, electrical and electronic devices and systems.

ASVAB Section 6: Mathematics Knowledge Test

ASVAB Section Six : Mathematics Knowledge

1 Product

Includes 144 Questions & Answers.

ASVAB Mathematics Knowledge Test is built of multiple choice mathematics questions that cover all high-school level math topics, and need to be answered promptly under a strict time limit. Test-King's ASVAB Math Preparation section includes real ASVAB questions that appear on this exam section, along with the correct answers, helping candidates demonstrate the best of their mathematics skills.

ASVAB Section 7: General Science Test

ASVAB Section Seven: General Science

1 Product

Includes 125 Questions & Answers.

ASVAB General Science test focuses on the high school-level science knowledge the candidates need in order to be enlisted. This section of Test-King's preparation kit includes ASVAB questions that test your knowledge in the areas of biology, chemistry, physics, environmental science and astronomy - exactly what you will be asked on the ASVAB General Science Test.

ASVAB Section 8: Paragraph comprehension Test

ASVAB Section Eight : Paragraph comprehension

1 Product

Includes 90 Questions & Answers.

ASVAB Paragraph Comprehension section tests the candidates' reading comprehension skills. The section includes reading paragraphs followed by in-depth questions. Test-King's preparation section includes 90 questions and answers from the ASVAB Paragraph Comprehension test, ensuring that candidates demonstrate the best of their reading comprehension abilities.

ASVAB Section 9: Assembling Objects Test

ASVAB Section Nine : Assembling Objects

1 Product

Includes 79 Questions & Answers.

ASVAB Assembling Objects Test belongs to the spatial area of the ASVAB exam, measuring the candidates' ability with spatial relationships. The section is built in a unique way where each question is comprised of five separate drawings. The problem is presented in the first drawing and the remaining four drawings are possible solutions. In this section of its preparation materials, Test-King provides graphic questions and answers, which are exactly the same as used on the exam, allowing candidates to demonstrate the best of their spatial skills.
ASVAB Product Reviews
got certified & having a great time
"Hey test-king
Everyone is proud of me because I passed ASVAB exam in first attempt. My all the wishes have come true and the entire credit goes to your preparation materials for ASVAB cert exam. Now I am prepared for my professional life and what I learnt at test-king during ASVAB preparations will surely help me. God bless test-king

Isaiah Wilson"
Be successful with test king product
"I wanted to tell you that I have passed my ASVAB exam and this could have been possible only due to test king product. Besides the quality of product, test king also offers money back guarantee. It means students should not bother about their money, in case a student does not succeed in his Admission Tests exam, the student can take his money back or he can be provided with another chance to take ASVAB exam on his own discretion. This is the major difference between test king and other service providers. This is money back guarantee and the students are going to loose nothing.
Bernard"
The vehicle for good results
"Test king ASVAB exam engine comes with a guarantee to let you get certified just in your first attempt. Test king Admission Tests exam engine is coming with an offer to do retakes of test papers for practicing as well as you can also use preparation labs anytime you want to. Get quick, get perfect only with test king ASVAB exam engine.
Dick Scones"
Anyone Serious About Passing ASVAB ? Try Test King
"Test King was a huge help in my ASVAB exam preparation. Whenever I was hung up on a particular question, the customer care operators were always available to help me out. The creators of the site have developed an excellent website with easy navigation. Test King ASVAB study guide is highly recommended to those serious about getting their ASVAB certification.
Donald Roy"
Find The Positive In The Midst Of The Challenge
"You might have not felt as much is happening when you first tried Test King ASVAB study guide, but your mind begins an important process of data recollection and retention. Test King ASVAB study guide prepares you to get positive, and this can only be done when Test King ASVAB study guide is on your side.

Claire Samson"
How important is ASVAB for military vocation
Developed by the Department of Defense of US, ASVAB (Armed Services Vocational Aptitude Battery) is an important aspect in the recruitment process of the US Armed Forces. The test is conducted over 14,000 schools and Military Entrance Processing Stations (MEPS) across the US. ASVAB is multi-aptitude test consisting of various subsets and composites of the subsets. The test helps in analysing the strengths, frailty and prospects of joining the US Armed Forces. The candidates are also given complete information on the various jobs, both civilian and military, to choose a career path and opt for college, vocational school or a military career.
There are three versions of ASVAB and the division is made in accordance to the purpose it serves. The three versions are the CAT - ASVAB, the MET-site ASVAB and the Student ASVAB. The first version, CAT-ASVAB, is aimed at recruitment for joining purpose in any of the military services and is conducted at MEPS. The computerized test works under an automated system which can display of questions and scores, record answers and scores of every ASVAB subtests and also compute AFQT score. The test does have time limits for each test however, the start times are flexible. If the subtest is completed before the allotted time limit, the automated system goes to the next test however, to continue immediately or later is candidate's choice. The CAT-ASVAB consists of 9 subtests including General Science, Arithmetic Reasoning, Word Knowledge, Paragraph Comprehension, Mathematics Knowledge, Electronics Information, Auto Information, Shop Information and Mechanical Comprehension.
The MET-site ASVAB is aimed at recruitment for joining into one of the military forces and are conducted at Mobile Examination Test site located in various cities. Taking up MET-site ASVAB requires a referral from the recruiter. It is a pen and paper test and does not have flexibility in start time of tests. The test comprises same subtests as CAT-ASVAB with the only difference that there are only 8 subtests as Auto Information and Shop Information are combined as one. The Student-ASVAB is aimed at helping high school and college students in exploring military careers. This is also a pen and paper test and conducted in high schools, colleges and vocational schools. The subtests of Student ASVAB are same as the MET-site ASVAB.
The scores in the ASVAB are of great importance. The scores of the Armed Forces Qualification Test (AFQT) are the most critical among all the scores of various subtests. The score in AFQT determines the qualification of the candidate to join the US military. The AFQT comprises of four sections including Arithmetic Reasoning, Paragraph Comprehension, Mathematics Knowledge and Word Knowledge. Each service in the US military including Army, Navy, Marines, Air force and Coast Guard have a minimum requirement of AFQT score to join their service. The job in the Army and the Marine Corps is known as MOS (Military Occupational Specialty), jobs in the Air Force are called AFSC (Air Force Specialty Code), and jobs in the Navy and Coast Guard are called ratings or rate. The highest score requirement is for Coast Guard followed by Air Force, Navy and, Marine and Army. Moreover, the scores in the other ASVAB subtests decide the career field (college, vocational school or military career) or military occupation eligibility. As the joining bonuses depend on the choice of occupation, having better scores would ensure more opportunities.
Thus, for joining the US Military, clearing ASVAB plays an important role. Not only does it evaluate the capability of a candidate's for being Military personnel, the performance of the test also decides upon the service in which the candidate can join. Hence, an aspiring military personnel or student should take upon the ASVAB with full criticality.
Frequently Asked Questions
How can I get the products after purchase?
All products are available for download immediately from your Member's Area. Once you have made the payment, you will be transferred to Member's Area where you can login and download the products you have purchased to your computer.
How long can I use my product? Will it be valid forever?
Test-King products have a validity of 90 days from the date of purchase. This means that any updates to the products, including but not limited to new questions, or updates and changes by our editing team, will be automatically downloaded on to computer to make sure that you get latest exam prep materials during those 90 days.
Can I renew my product if when it's expired?
Yes, when the 90 days of your product validity are over, you have the option of renewing your expired products with a 30% discount. This can be done in your Member's Area.
Please note that you will not be able to use the product after it has expired if you don't renew it.
How often are the questions updated?
We always try to provide the latest pool of questions, Updates in the questions depend on the changes in actual pool of questions by different vendors. As soon as we know about the change in the exam question pool we try our best to update the products as fast as possible.
How many computers I can download Test-King software on?
You can download the Test-King products on the maximum number of 2 (two) computers or devices. If you need to use the software on more than two machines, you can purchase this option separately. Please email support@test-king.com if you need to use more than 5 (five) computers.
What is a PDF Version?
PDF Version is a pdf document of Questions & Answers product. The document file has standart .pdf format, which can be easily read by any pdf reader application like Adobe Acrobat Reader, Foxit Reader, OpenOffice, Google Docs and many others.
Can I purchase PDF Version without the Testing Engine?
PDF Version cannot be purchased separately. It is only available as an add-on to main Question & Answer Testing Engine product.
What operating systems are supported by your Testing Engine software?
Our testing engine is supported by Windows. Andriod and IOS software is currently under development.

Money Back Guarantee
Test-King has a remarkable Practice Tests Candidate Success record. We're confident of our products and provide a no hassle money back guarantee. That's how confident we are!
SUMMER SALE! 15% Discount for All Exams!
This is a ONE TIME OFFER. You will never see this Again
Instant Discount 15% OFF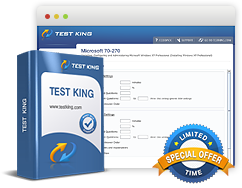 Your 15% Discount on Your Purchase
Save 15%. Today on all IT exams. Instant Download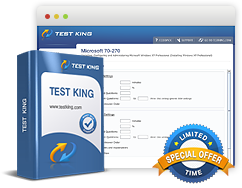 Use the following Discount Code during the checkout and get 15% discount on all your purchases: