Study Guides Training Materials
Prepared by Top Experts from IT Industry, our outclass Test-King Study Guides ensure you have Background Knowledge with baseline concepts for appearing in a Certification exam. Each Test-King Exam study guide is often available with Training Course and Questions to prepare you not only for your exam, but for the challenges you may face in related IT industry.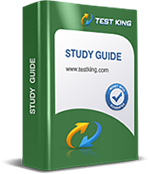 PDF format Available; use on PC, Mac, Pocket PC, PDA, smartphone
Written in plain English, for layman by Professionals
Prepared in agreement with vendor defined guidelines
Contains Labs & practical exercises for hands-on experience
Prepares you to handle everyday IT problems
Esay to study
Test-King Study Guides can be used either alone or in combination with our other leading products such as Questions & Answers, Audio Exams, Training Course. Test King's Study Guide gives you an un-matched theoretical and practical knowledge. Pass your any IT Certification Exam, guaranteed with Test-King!