Questions & Answers
Questions & Answers (Q&A) are the basic and most valuable Product of all our Products. IT Industry is very fast paced and Questions & Answers provided by Test-King cover the same topics as the Real exams. Using our Test-King Questions n Answers will prepare you for Actual Exam with the correct Answers. Above all the most important part is Explanations of Questions, we also provide detailed explanations to ensure that you fully understand that why and how one specific Answers option is correct while others are incorrect.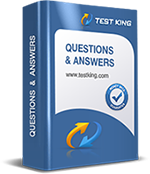 Questions covering same topics as Real Exam
Correct and Verified answers by Experts
Detailed explanations (where available) for better understanding
Exactly like the real tests: drag and drop, multiple choice questions included
Simulates real exam environment for practice
Questions Updated regularly
Backed by our GUARANTEE POLICY
Our Test-King Questions & Answers are formulated by industry leading Professions including executives from Expert Teams. Accuracy of Answers is guaranteed. Purchase our Test-King practice tests, and pass any Certification exam with just 7 day study.
Test-King Questions & Answers